Tuscany Vegetable (Zuppa di Verdura Toscana) *LOWER PRICE*
Regular price
$10.00
Sale price
$8.00
Unit price
per
Sale
Sold out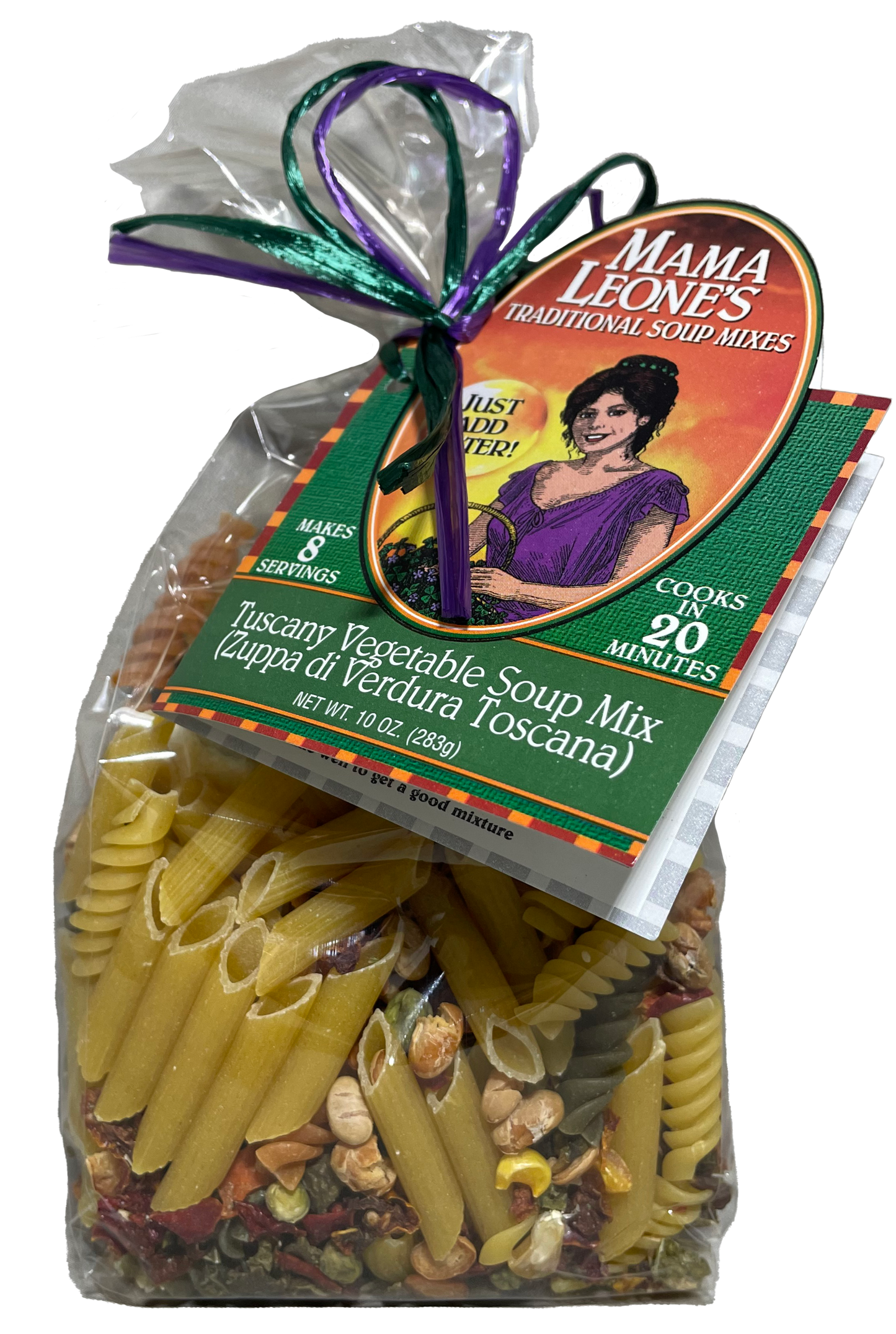 Product Description
Net Wt. 10 oz. SERVES 10 PEOPLE. Great for large families or potlucks.

This is a lighter version of a hearty stew. Navy Beans and a Vegetable base flavor, it is quite nice for our Vegetarian friends. Goes great with any of our bread mixes used as a bread bowl.

Preparation, Quick & Easy Method: Empty contents of package into 8 cups of water.* Bring to a boil. Reduce heat and simmer 20-30 minutes.

Crockpot Method: Mama's soups are very crockpot friendly. Put contents of the bag into the crockpot with 8 cups of water* and cook on medium 4-6 hours or low 6-10 hours until you return home. 
*The 8 cup method makes Mama's soups very hearty and robust. For more broth, add additional water.
Variations: Tuscany Vegetable soup is traditionally a vegetable soup, but meat lovers may add some lean ground beef, chicken strips (can used canned chicken) or the best is lean ground Italian sausage. Simmer for about 20-30 minutes. Sprinkle with parmesan cheese.

Nutrition Info: Serving Size 1.375 oz, Servings per container 8, Calories 125, Calories from fat 6, Total Fat .09g, Saturated Fat 0g, Trans Fat 0g, Cholesterol 0mg, Sodium 170mg, Total Carbs 36g, Dietary Fiber 2g, Sugars 1%, Protein 4g, Vitamin A 100%, Vitamin C 0%, Calcium 2%, Iron 8%, based on a 2,000 calorie diet.

Ingredients: Semolina, dehydrated navy and kidney beans, tomatoes, corn, carrots, onions, garlic, parsley, basil, hydrolyzed soy and vegetable protein, salt, maltodextrin, disodium caseinate, disodium guanylate, citric acid, salt.